Instant Cash Loans & Instant Loans
Apply For Quick Cash Loans in Minutes. We'll Do The Rest
4.8/5
Google Review
4.3/5
TrustPilot
5/5
Facebook
5/5
Word of Mouth
5/5
Product Review
Trusted By Thousands Of Aussies Every Month

4.8/5
Google Review
4.3/5
TrustPilot
5/5
Facebook
5/5
Word of Mouth
5/5
Product Review
Trusted By Thousands Of Aussies Every Month
Needing Instant Cash Loans?
Looking to consolidate your debt or need a cash loan to pay for your financial emergency? Instant cash loans could help! It doesn't matter how much money you have saved, unexpected expenses can pop up out of nowhere, throwing your finances out of whack. Getting an instant cash loan from a reputable lender, however, could be the answer to your money woes! So if it is instant approval loans need cash today or a  personal loan, fast cash loan, no credit check loans, or even a payday loan you need, you have come to the right place! CashPal is the best lender finder for your next loan. Want to know why and how? Just read below.
The problem is, finding the right lender isn't exactly a walk in the park. A simple search on Google for 'instant cash loans' will show you hundreds of results for online lenders. Let's be honest, you don't have the time on your hands to sift through these lenders to decide which one is best for you. That's why CashPal is here to do the hard work for you. We find lenders offering personal loans between $2,500 and $15,000 that are suited to your financial situation.
Where Can I Get Instant Loans Today?
CashPal is a lender-finding service that specialises in, yep, you guessed it, finding suitable lenders for our clients who are looking for an instant loan. We partner with a number of lenders who provide loans for a number of different needs. Although we cannot guarantee that the lenders we partner with can provide instant loans online, we will do our best to match you with a lender who can provide quick instant cash loans, with instant an outcomes. We have lenders who offer all types of loans from access pay early loans to debt consolidation loans 
Whether it's your car breaking down & need a car repair loan or a medical emergency in the family – Why is it that financial emergencies never seem to occur when you're flushed with cash? Unfortunately, this is just a part of life that we cannot help. However, we can help by finding a suitable lender to provide you with quick cash loans. So scroll up to apply now to apply to borrow up to $15,000.
How Instant Cash Loans Work
You might still be wondering how we do things at CashPal. Let us fill you in. Through our 100% online application portal we can get you instant cash loans in Australia, our super-fast same day loan approach provides a seamless way of finding a reputable lender. You can apply for a loan from the comfort of your own living room. No need to print out mountains of paperwork or line up in lengthy queues at banks. Just submit an online loan application form, and we do the rest for you!
Once you submit your application, after verifying your eligibility, we will match you with a lender based on your details and the amount you'd like to borrow.
Whether it is a big purchase, home improvement, holiday, wedding event, vehicle purchase, educational fees, or you need to pay off your credit card bills, a financial emergency can strike anytime. CashPal won't leave you alone during such times.
Contact us, discover how we work, submit your inquiry, and we will get back to you. Our expert team won't keep you waiting for long.
What Are Instant Cash Loans
A personal loan is an amount borrowed by an individual to spend on the expense of their choice. They then repay this borrowed amount in fixed installments at specific interest rates over the agreed period. Traditionally, there are two types of personal loans. These are:
| | |
| --- | --- |
| Unsecured personal loans | Your lender does not require any security for the requested loan amount. This generally means you won't be to apply for as much as it's riskier for a lender to lend you a large amount without having collateral attached as security. |
| Secured personal loans | An asset is used as a security against your loan amount. Your lender can sell the asset if you fail to repay the loan amount. This is generally only done as a last resort, however. |
Various lenders allow you to payout your loan without charging you an early repayment fee.
What To Look For When Applying For A Instant Cash Loan?
Whether you are going for a secured or unsecured personal loan, always check the below parameters:
The interest rate on the personal loan

Is the interest rate fixed or variable?

Application fees for a personal loan

How to qualify for a personal loan with a lower interest rate

Is making extra repayments allowed and the penalty fees associated with it
Once all the above parameters are cleared, you can apply for a loan. Although we cannot guarantee we'll find you an instant cash loan, we'll do our best to find you a lender providing quick cash loans or same day loans.
Advantages of Instant Cash Loans
You can apply for or get a personal loan for several reasons. The various advantages linked with it are:
Borrow any amount – Whether you require a few hundred dollars or up to $15,000, CashPal can help you find lenders to provide you with your desired amount.
Consolidate your debt – If you want to consolidate all your existing debts to pay off high-interest debts with lower interest loans, then a personal loan can be a great way to do so.
More time to repay – Unlike payday loans, you get a reasonable time to pay back your loan. Depending on your lender and the loan amount, the repayment period can vary from a year to more.
Quick approval – CashPal can find lender's that can give you a super-fast outcome. You no longer have to wait days or even weeks applying for a loan at a bank or credit union, just apply with CashPal.
 Bad credit ok – Unlike traditional lenders, CashPal can find lenders who don't entirely assess your application on the basis of your credit score. Rather they can look at the big picture like your spending habits and ability to afford the repayments.
All types of Loans – Unlike student, car, or mortgage loans, you can use a personal loan for any purpose. Like for a dream vacation, car repairs, consolidating your credit card debt, medical bills, home renovation, and others.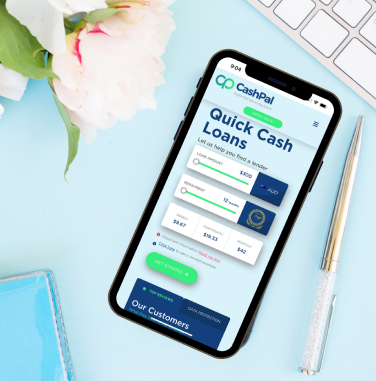 How Do I Get Approved For an Instant Cash Loan
Before you apply with CashPal, make sure you meet our eligibility criteria. To get approved for an instant loan, you should meet the below requirements:
Be at least 18 years of age

Be an Australian citizen or permanent citizen

Have been receiving a regular income into a personal bank account for the last 90 days

Have a mobile number and email address
That's it! If you can comfortably tick all the above boxes then you're eligible to apply now!
Can I Get An Instant Loans Online No Credit Check
If you have a poor credit score or you have no credit, you might think you've got no chance of getting an online instant loan, right? Wrong! Though some of the lenders we partner with will conduct a credit score, it doesn't have to be the deciding factor on whether they'll approve your application. Instead, they can look at your bank statements to assess your spending habits and overall relationship with money. To know more, head over to our no credit check loans page by clicking here
If you're having trouble deciding on a lender to apply with, CashPal can help you in finding the right lender. Although we cannot guarantee instant cash loans, we'll do our best to find you a lender offering very fast instant loans from $2,500 to $15,000. In only a couple of minutes, you can fill out our 100% online application form and let us do the hard work of finding you a lender. It's that simple!
Can I apply For Instant loans If I Am Receiving Centrelink Payments?
The short answer is yes, you can. We know it can be increasingly hard to access finance if you're receiving Centrelink benefits. Traditional lenders such as banks and credit unions will typically take one look at your application, see that you're receiving Centrelink and reject it instantly. We, however, don't think this is very fair. We know times can be tough, and financial emergencies can happen to anyone. That's why we can find lenders who can provide loans to people on Centrelink.
We cannot guarantee we'll find Centrelink loans, as all of the lenders we partner with will conduct an assessment of your application. However, we know how hard it can be to find fast loans when you're receiving Centrelink. With this in mind, we do our best to find lenders who are happy to accept applications from clients who receive Centrelink benefits.
What Is A Lender Finder
Finding the best and most reputable lender that meets your requirements or needs is a tricky task. The task can consume your time which you probably can't afford especially if you're working full-time. It could even take days to thoroughly research a number of online lenders. You need to compare costs, and terms of different lenders. The most challenging part is to check the authenticity of the lender.
To make the task easier for you, a lender-finder such as CashPal can be of great help. We understand tricky situations and are ready to help you find lenders with our online portal. Being in the business for years, we know all the ins and outs of all the lenders available within our network. Therefore, we can find a lender most suitable for your individual circumstances.
By allowing us to do the hard work for you, the process is as seamless and quick as possible. Our quick online process can help you access a fast loan to spend on the things that matter.
How Do I Apply For An Instant Loan Online?
Applying for CashPal's online lender-finding service is super easy! All you need to do is follow the simple steps below.
Step 1: Apply online
To get started, simply scroll up to the top of this page to find our loan calculator. Using the slider, select the amount you'd like to borrow and the repayment period. When you're happy, hit 'Apply Now.'
Step 2: Fill out the application
You'll then be taken to the 100% online application form. This step usually only takes a couple of minutes to fill out. Fill in all the personal details and ensure they're all correct. When you're done, hit 'Submit.'
Step 3: We'll find you a lender
Once we've received your online application, we'll begin the search to find you a lender suitable for your financial and individual circumstances. Once we've found you a good match, we'll send your details over to them. From there, your lender should be in touch.
Step 4: Sign your contract and get your cash
Once your lender has received your application, they'll assess it to see if they can offer you an instant loan. If you're approved, you'll be sent an agreement for you to review and sign. We recommend reading over the terms carefully. Once you're happy, sign the agreement and send it back to your lender. Once your lender receives your signed agreement, they'll send you cash shortly after. The time it takes for you to receive your money depends on your lender and the time of day you apply.
If you have any further questions regarding what we do, you can head over to our FAQ page where your question will most likely be answered. Alternatively, please don't hesitate to contact us!